We have been manufacturing paperboard air filter frames since 1989, and last year produced more than 4,000,000 sets (top and bottom frame) in more than 200 different sizes.
Call/Fax/Email us for a quote – we have a "standard" price list, but can customize a quote for virtually any size / shape / configuration.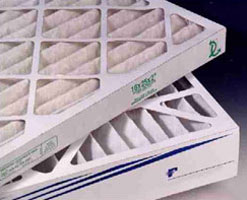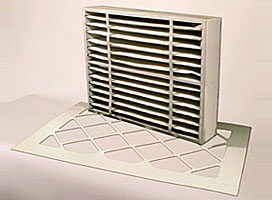 MATERIALS:  We work primarily in .024″ beverage board, which offers excellent performance, including wet strength, at a reasonable price.  However, our die cutters are capable of handling from .016″ to at least .040″, coated or uncoated paperboard, and we are able to source many different varieties.  Because we buy beverage board in bulk, it offers the best "bang for the buck," but other options are possible.
SIZES:   We maintain a full set of dies for more than 75 of the most common sizes, which can be used by any customer at no charge.  Standard Sizes – with Actual Size

We can also design and manufacture virtually any custom size / shape / configuration.  We have a sophisticated CAD/CAM system that allows us to do rapid prototyping, including design and samples, at minimal cost.
PRINTING:  Our digital print equipment allows for branding / customization of frames without the need for complicated graphics files, and no up-front print tooling costs.  We do graphic design with your logo, QR or UPC code, and any other custom images (in addition to the normal size and air flow direction information) with no fixed costs.  Digital printing is currently available in black, reflex blue, and PMS355 green.  We also have offset and flexographic printing capabilities for more extensive, multi-color graphics (these do involve one-time costs and make economic sense at higher volumes).  More About Printing
ORDER QUANTITY:  We specialize in shorter runs. – we will schedule a production run for as few as 1,000 sets, and we will piggyback orders for as few as 500 sets with others using the same die.  Customized digital printing is available for any run size.  We are also well-equipped to do runs of 50,000 or more sets.  We operate seven die cutters (three roll-fed, four sheet-fed), which offers us considerable flexibility and redundancy.
LEAD TIME:  We can normally ship within two weeks of order for most sizes (longer for 5″ filters, and usually a bit longer for first-time customers as we get things set up in our system).  We always strive to meet customer needs, so if you need something faster, please tell us.