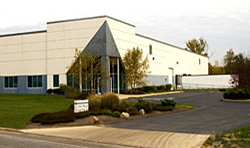 Since 1947, Oak Hills Carton Co. has been an independent and locally-owned packaging company manufacturing folding cartons, bar soap packaging, air filter frame die cuts and other paperboard packaging.
We actively assist our customers in designing folding cartons for the following industries: medical devices, auto parts, bar soap, cosmetics, food, fasteners, air filters, and many more.
We operate out of our new 40,000 square foot facility close by Interstates 74 & 75 in Cincinnati, Ohio. We are equipped with offset, flexographic, and digital printing presses, both sheet-fed and web-fed die cutters, cellophane windowing, heat seal, shrink wrap and folding/gluing equipment. We offer full pre-press, CAD/CAM (for design and sample making) and die making services.
Whether you are looking for a new company to help manage and control your existing folding carton needs, or you are looking for a new package and don't really know what you need, we can help.
Quality:  We stand behind everything we do.  If you are not satisfied, we will repair it, replace it, or give you your money back.
Service:  We treat every customer with honesty, transparency, follow-through, and gratitude.
Expertise:  With 70 years of experience, we can help you choose the right material, style, and finishing touches to bring your ideas to life.
Solutions:  We spend the time to understand your needs so that we can engineer, design, and produce a consistent and quality product that meets your requirements.